Entrepreneurial Explorations: Venturing Beyond Traditional Corporate Roles
Jun 05, 2023
"The best way to predict the future is to create it."
~ Peter Drucker
Hi Audie!

Where the heck did May go?! As I have gotten older, it seems as though the days, weeks and months go by so much faster. As I'm often heard saying, "If they go any faster, we'll all get whiplash!" 🤣

This month's newsletter addresses the question "What's next in my career?" ... but it has a different twist to it than what most corporate leaders/executives think about.

When you ask yourself this question, what comes up for you?

Is it advancing at your current company or securing an exciting and challenging new role at another company?

But, what if you're thinking about leaving Corporate America, know you want the ability to leverage your vast experience and expertise, but you're not sure what it may look like? 🤔
In this month's newsletter, I share some insights into entrepreneurship -- launching a service-based business or investing in and running a franchise. You'll learn some of the personality traits of successful entrepreneurs, some of the pros/cons of each, and will have an opportunity to explore these options further with experts in the field.



Entrepreneurial Explorations: Venturing Beyond Traditional Corporate Roles
Do you ever wonder if there's more to your career than working in Corporate America?

Do you feel like you're ready to take full control over your destiny, have more freedom, work/life balance, make more of an impact on others (and the world) and have the opportunity to earn an unlimited income?

if so, you're not alone! I've been there ... and so have countless others!


Corporate Professional vs. Entrepreneur
If you're thinking about making a career change and looking to explore non-corporate roles, let's first talk about what sets an entrepreneur apart from a corporate professional.

Corporate professionals thrive in structured environments, find comfort in a consistent paycheck and corporate perks/benefits, and, generally speaking, are risk-averse.

On the other hand, entrepreneurs are risk-takers, are fueled by a passion for their own ideas and are willing to take on the inherent uncertainty that comes with building something from scratch (or investing in and following a proven business model). Entrepreneurs generally crave independence, value flexibility and are driven by the potential for unlimited growth and financial success.


Service-based businesses vs. franchises
Launching your own service-based business (i.e. consulting, coaching, freelance writer, graphic designer, etc.) can be an incredibly rewarding venture. There are plenty of opportunities to leverage your skills, expertise and experience into a highly successful business.

The pros? You get to be your own boss, set your own schedule, have full control over your work, and you have the freedom to pursue your passions and work with clients who align with your values (and who you want to work with.)

However, running your own business is not all rainbows and unicorns! As an entrepreneur, you'll have ultimate responsibility for all aspects of your business, including sales, marketing, finance, operations, technology and customer service. You'll need to be self-motivated, adaptable and willing to take on the frequent rollercoaster ride of uncertainty.

Let's shift to investing in and running a franchise. Franchises are an excellent option for those seeking the benefits of business ownership with a little less risk. With a franchise, you'll have the advantage of an established brand, proven systems and ongoing support from the franchisor. You can choose from a wide variety of industries, too.

The pros? You'll have a higher likelihood of success compared to starting from scratch, and you'll be entering a market with an existing customer base and, often, a recognized brand. Franchises usually come with comprehensive training programs, which can be a great asset if you're new to entrepreneurship. Keep in mind, however, that running a franchise still requires dedication, hard work and an investment of both time and money. You'll have less flexibility compared to a service-based business, as you'll be bound by the franchise's operating standards and guidelines.

Things to think about when considering a change to entrepreneurship
Passion and Purpose - it's important to align your passions and values. What truly motivates you? What brings you joy? Building a business around something you love can make a huge difference in your overall happiness and fulfillment.
Work-Life Balance - take the time to think about where you're at in your life, your personal priorities and how they align with the demands of entrepreneurship. You have more flexibility with a service-based business vs. a franchise (unless you hire someone to run the day-to-day operations of the business).
Do your research - take the time to understand the industry you're interested in, the market demand, and the potential risks and rewards.
Networking - networking is crucial! Reach out to others in your desired field or speak with other service-based entrepreneurs or franchisees, attend industry events and learn from their experiences.
Your financial situation - assess your financial situation and your risk tolerance. Starting a business (service-based or franchise) often involves some degree of financial investment and uncertainty so it's important to have a solid plan in place.
Risk tolerance - assess your risk tolerance (and that of your spouse or significant other!). Entrepreneurship and non-corporate roles often come with a level of uncertainty and risk. Consider your comfort level with taking risks, adapting to unexpected situations and weathering potential setbacks. Above all, be honest with yourself so you can make a well-informed decision.
Trust your instincts - if you have a burning passion for an idea, believe in your abilities, and are open to continuous learning and personal growth, don't let your fear hold you back. Embrace the challenge and take that leap of faith.
Embarking on a major career change is a big decision, and it's important to take the time to reflect, research and plan. While it can be daunting, it can also be an opportunity for personal growth, fulfillment and professional success.

Embrace the journey, stay open to new possibilities and have confidence in your ability to thrive in whatever path you choose.

Happy exploring!
"My biggest motivation? Just to keep challenging myself. I see life almost like one long University education that I never had -- everyday I'm learning something new." ~ Richard Branson

Considering launching a service-based business?
After being downsized in 2014, I was ready to do something different, but wasn't exactly sure what it looked like.

I spent time reflecting on my passions, expertise and natural abilities. I thought about the next 10-15 years and the flexibility and lifestyle I wanted to have.

I took the leap, re-engineered my career by becoming a professional coach (being trained in and earning my ICF certification), and launched Your Call To Action (YCTA) in 2015.

I initially had 2 areas of focus:

(1) a Sales Coach at B2B technology companies. My decades-long professional background, expertise and passion was in technology sales/sales leadership roles.

(2) an Executive Job Search Coach. I have gained the reputation of being the "Queen of Executive Job Search". I absolutely relished the times I would launch and execute a new job search, usually resulting in receiving multiple offers.

Around the time I celebrated my 1 year business anniversary, I turned my focus to solely being an Executive Job Search Coach ... and, as they say, the rest is history.😊

Running my own service-based business has been so satisfying, despite the challenges. I intentionally launched YCTA as a virtual business allowing me to work from anywhere with reliable internet.

Each day, I have the privilege to work with fabulous people and help them find 'what's next' in their career...with intention and confidence. It's so rewarding and fulfilling, and an amazing feeling knowing I'm making a positive difference in people's lives.

The vast majority of my clients are seeking another corporate role; however, I have worked with (and continue to do so) countless corporate leaders and executives who wanted to go the entrepreneurial route, and through my guidance, support and coaching, have launched their own coaching or consulting business. I'm extremely proud of each of them and the rewarding business and life they've created for themselves.

How about you? If you're open to exploring whether entrepreneurship and launching a service-based business is for you, let's talk!


Does franchising pique your interest?
If you're interested in exploring 'all things Franchise', I encourage you to work with an experienced and reputable Franchise Consultant.

How do you find one?

When it comes to determining which one to work with, it's best to seek out introductions or referrals ... much the same way you would if you were putting your home on the market (or interested in buying one).

I highly recommend you reach out to Melissa Lewis, a self-proclaimed Franchisologist.

Melissa has spent over 20 years helping people explore the world of franchising and whether or not it's a good fit. If so, she then helps them determine which franchise would be the best for them, and guides them throughout the process.

Melissa has such a great way about her, is very knowledgeable, experienced in and passionate about franchising and, most-importantly, is client-focused. I highly recommend you speak with her.

(Full Disclosure: I don't personally benefit in any way by referring Melissa. I've gotten to know her over the past 6 months and trust her implicitly.)

✨Bonus! Click here to watch the special 3 minute video Melissa created for us. I invite you to hear what she has to say: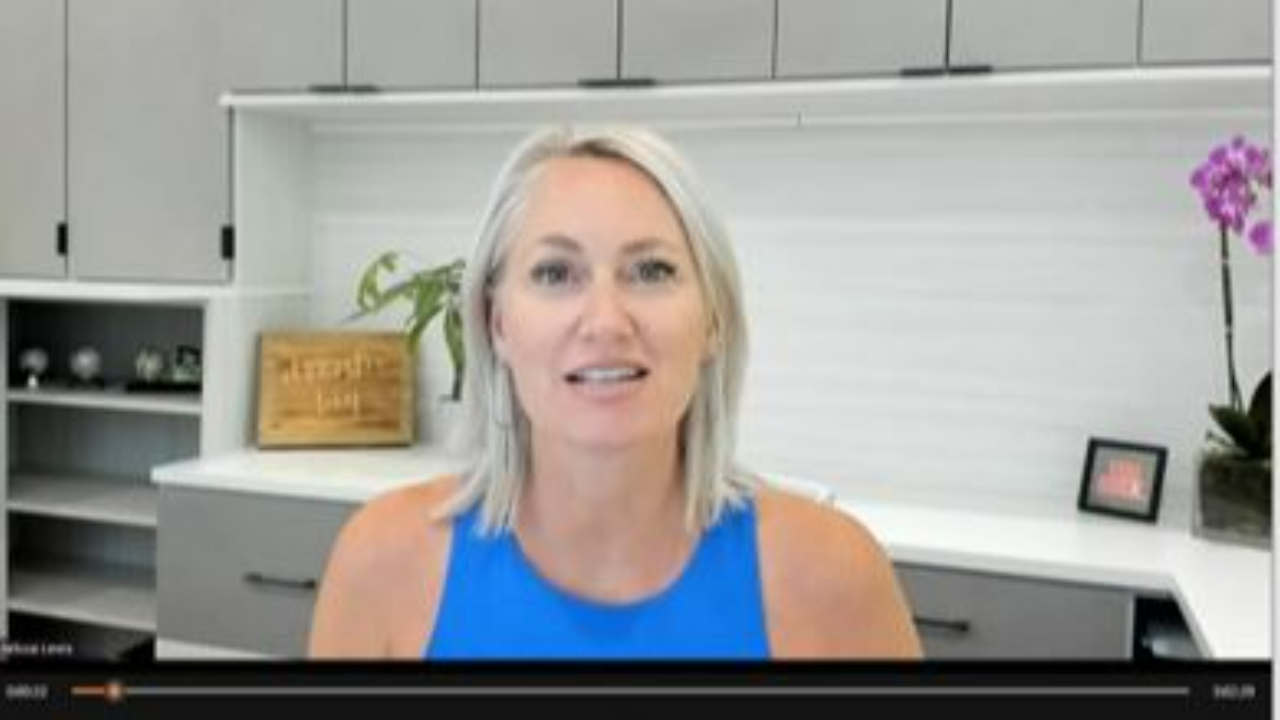 Here's Melissa's bio:

For 20 years, her straight-forward attitude and intuitive entrepreneurial spirit have been instrumental in success stories of thousands of people.

Melissa started her career in franchising as an employee at a small juice franchise. One of only five in the company, Melissa needed to wear many different hts for the business. Over a few years, Melissa helped push the company to a growth rate of over 1,000%. Her unique abilities and diverse experience was quickly recognized by a leader in the industry. After which, Melissa found a passion helping people realize their dream of business ownership.

Franchises can be investments, career changes, retirement vehicles, or a bridge to leaving Corporate America.
"As everyone I work with is unique, as is each franchise. From owner-operators, to investor-based, to empire building, each successful franchisee has one thing in common: the correct choice. I've helped hundreds of people make that correct choice. I am fortunate to have played this role for twenty years and am humbled watching my candidate's growth over the years, accumulating wealth and invaluable time." ~Melissa Lewis
And her contact information:


Melissa Lewis, The Franchisologist

(941) 388-7707

[email protected]

http://franchisologist.com/

📢 UPDATE! 📢

From Search To Success: Landing Your Dream Corporate Role With Intention and Confidence
My new small group coaching program is off to a great start! The participants are highly engaged and already having many a'ha moments!

Here's some of the comments I've received thus far:

"Thank you, Audie, for the support, encouragement and validation."

"I'm so glad I found you!"

"Great feedback and insight, Audie. Thanks for your wisdom and guidance."

From Search to Success Collaborative is modeled after my wildly successful and proven framework, The Job Search Runway™, which I've used in helping hundreds of corporate leaders and executives land significant offers through my 1:1 coaching programs.
👉 I'll be sending details and opening enrollment again for a limited number of group participants later this summer. 👈
This program could be for you if ...
You are actively looking for your next opportunity and are struggling to secure interviews, offers, or uncover new opportunities.
You've decided to start looking for a new opportunity and want to skip the "trial and error" stage and get expert guidance and support from Day 1.
You are at the mid- to senior-level and looking to advance in your career or secure a position at another company that's a better fit.
You can commit a minimum of 5 hours per week to participate in the program and apply what you're learning to your job search.
You're coachable and open to learning new concepts and strategies.
You're friendly and collaborative.
If you'd like to join the waitlist and be among the first to hear the details and when enrollment for the next cohort opens again, click here.

(Feel free to share this with other corporate leaders & executives you feel could benefit from it.)

Note: A group coaching environment isn't for everyone. If you prefer to work with me via 1:1 coaching and would like to schedule a complimentary consult call, click here. I look forward to speaking with you!


In closing, I hope you enjoyed this month's newsletter and received a lot of value out of it. What's your biggest take-away? Reply to this email and let me know!

I'll be back in your Inbox next month with other valuable job search tips, strategies, mindset shifts and light bulb moments. 💡

Thank you for being part of my community! ❤

To your career success,
Audie

P.S. If you are a mid- to late-career corporate leader/executive looking for the expert guidance and support through every step of your job search campaign, wants to shorten your timeline to landing a new opportunity, and wants the consistency, forward movement and accountability only a trusted and highly experienced job search coach can provide, let's talk!

I'd love to better understand your situation, explore how I can help you achieve your job search goals and see if there's a mutual fit. Click here to schedule a complimentary 40-minute consult.

P.P.S. Referrals are a significant part of my success, and I am grateful for any introductions you can make. 🤗 Who do you know who is just beginning or currently seeking a new opportunity?

If a friend or colleague forwarded this email to you and you'd like to receive future monthly newsletters filled with valuable tips, strategies, and mindset shifts geared toward the mid- to late-career corporate leader, subscribe here. Thank you!